The Pinkberry Franchise Overview

An uncompromising commitment to taste and quality

A history of unprecedented growth

Programs designed to support your growth
Pinkberry Franchise Values
Uncompromising Quality
We believe in continuously raising the bar on the quality of our products and everything we do.
Emotional Connections
We believe in fostering meaningful connections between our brand and its franchisees, customers and communities.
Customer Delight
We understand our brands and we serve with humility and gratitude.
Team Member Excellence
We believe in innovative ways for us as Franchisor and for you as Franchisee to attract, train and retain outstanding Team Members – people are our brand's future and strongest asset.
Entrepreneurial Spirit
We believe everyone should act with a sense of urgency and have the courage to take calculated risks, solve problems and innovate.
Profitable and Responsible Growth
We believe in growth and profit as the engine to achieve our dreams.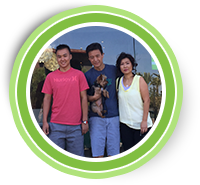 "We liked the idea of having a big brother assisting you all the way. And Pinkberry Inc. /Kahala Brands have been there for us every step of the way. The Pinkberry brand still carries a strong image in the frozen yogurt industry and the support from corporate has been very positive. If you are thinking about getting into a franchise business, based on our experience, we highly recommend Pinkberry!"
– Jace Chung and Mimi Chung
Franchisees since March 2012
Pinkberry Site Requirements
Pinkberry frozen yogurt franchises range from 400 – 1,500 square feet in size, including traditional street front, kiosks, in-line locations, and more. You can find Pinkberry stores in neighborhoods, shopping centers, malls, airports, and even on college campuses. We are flexible with store design and collaborate with our franchisees to find the best way to build a branded environment in the space they have to work with. Whatever the format, we create unmistakably inspired Pinkberry experiences.
The Franchise Opportunity
We are looking for area developers and multi-unit and single-unit operators to help us bring the Pinkberry experience to more people. Franchise candidates should have proven leadership skills and sufficient net worth. If you meet these criteria and love the Pinkberry brand, let's talk:
Financial Resources
A minimum liquidity of $125,000 a minimum net worth of $250,000, and ability to access credit.
Operational Excellence
Live in the local market and have superior customer service, extensive operations, and strong store management experience.
Passion for Pinkberry
Share Pinkberry values to exceed customer expectations, and believe in distinct products, outstanding service, and inspirational design.
Find out how you can become a Pinkberry franchise owner now. Please click below to request franchise information.
Frequently Asked Questions